Discover Manila Philippines for a tour in the country's capital
Meta: Learn how to enjoy Manila Philippines for a worthwhile tour in the country's capital city. See its rich urban life and history through your visit.
Manila Philippines is the heart of the country, and is popular because of its rich history and contrasting characteristics.
Notice the blending of Asian and Christian inheritance brought by the Spaniards.
It also features structures from 1700's Spanish colonization, such as the entire walled city of Intramuros.
And buildings made after World War II, standing beside infrastructures of the modern years.
Moreover, people from different walks of life call the city their home, especially the poor yet hard working and resilient citizens.
The Manila is located at the mouth of Pasig River, within the island of Luzon.
It's originally comprised of the areas of Intramuros, Sampaloc, Ermita and Malate.
However, its population rockets up through the decades, hence Metro Manila was born.
Metro Manila is the region composed of 17 cities, serving as the country's main political, economic, commercial, industrial and cultural hub.
Manila Philippines Accommodation Options in Manila

The Malate District is one of the best accommodation option near the Ninoy Aquino International Airport (NAIA).
It features various restaurants and nightlife venues among other leisure establishments.
Also, it's easy to spot affordable hostels for a stay in the place. And "Where 2 Next" is one of these good accommodations to consider.
Where 2 Next offers cheap accommodation which depends on the room or bed you would get.
If you would take a bed in a room for 14 people, you only need to pay 550 pesos.
Then, prepare 1710pesos for a triple room accommodation. The place also offers different amenities and services, such as luggage storage, laundry and smoking area.
But if you wish to enjoy relaxing and quiet-type leisure and accommodations, consider Pasay and Makati cities in Metro Manila Philippines instead. These cities belong to the Metro Manila region which is also the tourism centre of the country. Moreover, Makati is hailed as one of the best performing Asian financial district as well. They are both near the NAIA, and offers different affordable accommodation and restaurants.
And if you want to enjoy a luxury visit in the capital of the Philippines, Manila Hotel should fit you well.
It houses different amenities and facilities, such as laundry, gym, spa and even business centers among other services.
Moreover, it's only around 700m from Intramuros, and 900m from Manila Cathedral.
Flights to Manila
There are few flight options to the capital of the Philippines. But note that there's no direct flight from Spain. Hence, find connecting travel with the least number of lights if possible.
Also, remember that Philippines requires return flights to country of origin. Failing to arrange for it means you won't be able to enter the country.
Moreover, airlines won't allow you to book if you cannot provide proof of return flight as well.

In addition, Europeans can get free 21-day visa for entry in the Philippines. But you can extend it up to the maximum of 59 days. Call the immigration office for more info.
The main airports in the Philippines are the Clark Airport in Pampanga, Mactan Airport in Cebu, Francisco Bangoy International Airport in Davao, Iloilo Airport in Iloilo and Airport Kalibo International in Kalibo.
But if you're planning for a visit in Manila Philippines, be sure to fly to Ninoy Aquino International Airport.
This is also the biggest airport in the country.
Things to do in Manila Philippines
Here are few of the best places you should visit in Isla Manila:
Source: Wikipedia
● Intramuros – the walled city built by Spaniards during their occupation. It features Spanish style houses, churches and schools, which shows the deep connection between Spain and the Philippines. Also, you can tour it through long walks, or by riding horse carriages with guides for only 3 euros.
● Fort Santiago – the oldest Spanish fortress in the country, which served as a main defense fort during the spice trade. It's strategically sitting near Manila Bay and the spit of Pasig River, within the walls of Intramuros. Currently, it houses some of the artworks of Dr. Jose P. Rizal.
● Manila Bay – popular for people who love to watch the sunset. Small ice cream carts are available in the area for some cool treats as well. Moreover, reasonable yet decent accommodations are located nearby.
● Rizal Park – also known as "Luneta Park, this is an urban park which houses the remains of Dr. Jose Rizal—Philippines' national hero. It also keeps few hundred years of Philippine history—from Spanish occupation until today. In addition, it's a perfect place for relaxing strolling with family and friends as well, which makes it popular for international tourists in Manila Philippines.
● San Agustin Church – the oldest church in the Philippines which was originally built in 1571. It has stood strong for over 400 years—throughout multiple wars and natural calamities.
● National Museum of the Filipino People – it's a building with fascinating Greek renaissance architecture, and houses a large collection of valuable historical items. For example, it features items from Spanish shipwrecks dating back in 1600's. It also has Chinese items from commercial trades of 1100's, and archeological items from 5 BC in Mindanao.
● National Institute of Science and Technology – the place to discover various scientific references, and an intensive plant and animal collection.
● Kamaynilaan Library and Museum — another perfect spot in the Philippines capital city to see and appreciate brilliant artworks. It features carvings, paintings and archive among other valuable items.
Weather in Manila
Generally, Manila has tropical weather, which includes wet season of June to November and dry season from December to May. May is usually the hottest months with 30 ° C (85 ° F) average temperature, and January being the coldest at 26 ° C (78 ° F). Also, expect to meet the rainy season from July to September, with August on its peak.
Where to dine in Manila
Source: Choose Philippines
Manila is really a city with varying fascinating contrasts. And such contrast manifest on its cuisines as well. It offers food which blends western and Asian flavors in one, and has different food items which suits the taste of anyone.
But when you visit Manila Philippines, be sure to enjoy street food stalls you can spot almost anywhere in the city. You can also find pork, beef, chicken, fish, seafood and vegetarian among other options as well. However, Filipino meals are usually accompanied with rice, regardless of the side dish you choose. Also, do not miss to try the infamous "balut", or boiled fertilized duck eggs.
And to enjoy international cuisines, visit the Salcedo Market in Makati. It offers different dishes from around the world, including various vegetarian options.
Shopping Experience in Manila
Source: Klook
Manila capital of the Philippines is a significant commercial and economic city in Asia, which means there are plenty of shopping centers available. For example is the SM City North EDSA or "The Block", which is located in Quezon City. This is a perfect venue for whole day shopping in Manila. Moreover, it features entertainment and leisure areas, such as the Sky Garden.
You should visit the Greenhills Complex in the Philippines capital city as well. This is an intriguing shopping area where you can spot various imitation items of top brands. Moreover, you can haggle with vendors for the best prices too.
And if you want to purchase Filipino crafts and souvenirs, you should drop-by at the Quiapo Market near the Quiapo Church. There you can buy wood carvings, décor items and Filipino traditional items among others. And you can enjoy shopping while appreciating the blending culture of Christian heritage and Asian tradition in one place.
Transportation Options in Manila
Source: Phil Life
Public Transportation
Here are the public transport options available in Manila Philippines:
● Metrorail – an elevated train system which circulates the path of Epifanio de Los Santos Avenue (EDSA). This is the main highway in Manila.
● Light Rail Transit – This blue line passes through the cities of Quezon, Makati, Mandaluyong, San Juan, Pasig and Pasay. It features 13 stations all in all.
● Buses – you can find private and public bus companies all over Metro Manila. They are perfect for Philippines city travels, whether you're going in and outside Metro Manila. Also, note that price rates vary depending on your destination, and the type of bus you choose (air conditioned or not).
Private Transportation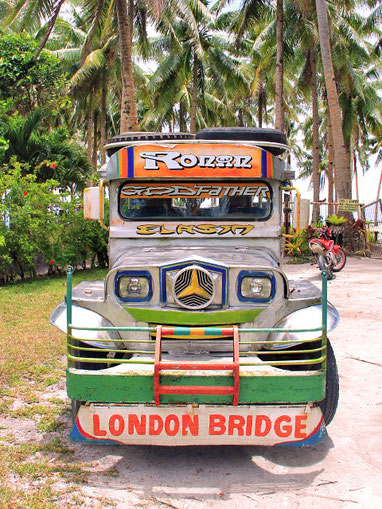 Taxi cabs are available in Manila. However, jeepneys are the popular choice for Filipinos. These are modeled from military jeeps of World War II, and are fitted with bright colors and designs.
However, take note that Manila is popular with its severe traffic jams, and jeeps are most likely to get entangled with. However, this is one of the best ways for you to experience Filipino lifestyle, hence it's worth to try. The destinations or routes are written on signage and on the side of jeeps, which would serve as your guide in riding the correct one.
Spanish Embassy in Manila
There is an Embassy of Spain in Manila, where the Consulate General of Spain in Manila serves. They help in cases such as:
● Essential information of educational, medical and legal services in Philippines
● Civil registry services
● Passport issuing services (in case you lose your passport), and other paperwork services.
● Legal intervention if in case you encounter legal conflicts
The Spain Embassy in Manila Philippines is open from Mondays to Thursday at 8:00am to 4:00pm, and on Friday at 8:00am to 3:30pm.
Also, the Consular emergency lines are: (+63) 917 82 66 046 (Phone Consular Emergency from Spain), and 0 917 82 66 046 (Phone Consular Emergency from the Philippines).
This is a quick guide you should take note for a Manila Philippines tour. Remember these info for you to enjoy Manila to the fullest.
Source: Elige Felipinas
Check out also siquijor filipinas
Check out my Blog about ifugao