food festival philippines Kulinarya Festivals (Jan.-March)
Date
Event/Venue Description Organizer
2nd week of January
UBI FESTIVAL
Venue: Tagbilaran City
Bohol
For almost half a millennium, the ube tuber has been venerated by the Boholanos. To this day, the respect for the plant is still stronger than ever. The festival will institutionalize. The ubi crop as the agro-historical-geographical-religious symbol of Bohol and to give the ubi the recognition it rightfully deserve in the market. It features an exhibit, ubi contest, an agri-business investment opportunity seminar and a cultural show.
Ms. Judy Quiachon
Bohol Tourism
Office
Tel. # 38-411-3666
January 22

LONGANIZA FESTIVAL
Venue: Vigan City, Ilocos Sur
It features the "longest Longaniza" with the hope of entering to the Guinness Book of Records as the longest Longaniza of the world.
Mayor's Office
Tel. # (072) 722-2466/722-8772
January 26

HAW-AN FESTIVAL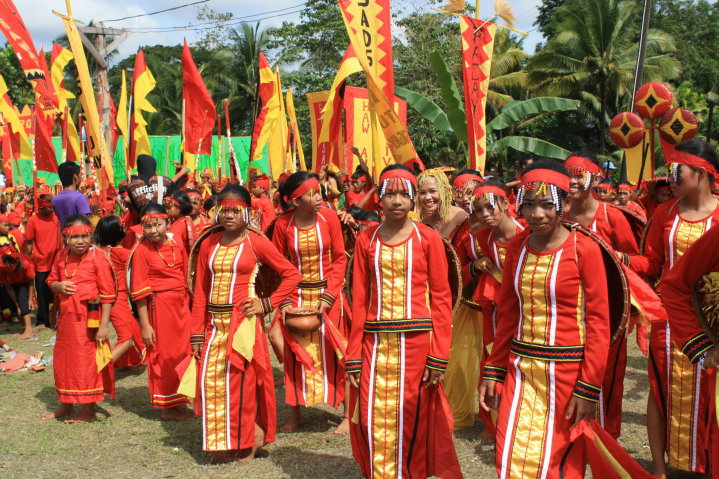 Venue: Bunawan, Agusan del Sur
Named after a local mudfish and inspired by its abundance, the Haw-an Festival is celebrated every January 26 in observance of the Araw ng Bunawan. I t is highlighted by haw-an catching and cooking contests and sadsad, a street dancing that showcases the Manobo's rich and vibrant culture.
Mr. Jose Rodriguez
CP # 0917-335-5436
January 31
BALOT SA PUTI FESTIVAL
Venue: Municipality of Pateros
One of the highlights of the Pateros Town Fiesta celebration. It is a food festival featuring a cooking competition of Pateros' famous "Balut", one of the country's original exotic food.
Ms. Regina Legaspi
Pateros Tourism and Cultural Affairs Office
Tel. # (02) 542-4346
DOT-NCR
Tel. # (02) 525-7082/524-8311
2nd week of February
TINAPAY FESTIVAL
Venue: Cuenca,
Batangas
An annual activity conceived by the town as thanksgiving to their patron saint, Our Lady of Peace and Good Voyage for a beautiful life. Gives recognition to the bakers of Cuenca for their outstanding skills in bread making. The biggest and longest bread of different shapes are paraded along the major streets of the town. Everyone partakes of the pastries and bread products after the grand parade.
DOT-Region IV
Tel. # (632) 524-1969/1528
February 10
DULANG FOOD FESTIVAL
Venue: Laoag City
Uncovers the culinary skills of the Laoagueños and revives the typically-Ilocano cuisine like the "pinakbet, bagnet, tinodok," including the famous Ilocano wine or "basi".
Laoag City Tourism Council
Tel. # (6377) 773-1676
February 15
KARANOWAN FISH-TIVAL
Venue: Bato
Camarines Sur
This fish-tival was derived from a local dialect "Ranow" meaning lake, spawned of giving significance to the bountiful Lake Bato, which is teemed with numerous species of fishes such as the well known tabios, tilapia nilotica, carp, eel, and many others. It focuses on the promotion of what the Lake has to offer and the preservation of this important fish habitat. It is highlighted by a street parade where the participants are clad in fish-like costumes as they depict the lives of the fishes.
DOT-Region V
Tel. # (052) 482-0712/820-3664
Every 20th of February
ASINAN FESTIVAL
Venue: San Lorenzo,
Guimaras
Marvel at how the ordinary salt has gravitated the people of San Lorenzo into an annual gathering with all the delicious trimmings of specialty products. Not everything in the Asinan festival is salty though, as there are the spicy seafoods, the juicy citrus, the crispy nuts. With the proper blend of the unique hospitality and the natural smiles of the people and one will hunger for more of the Asinan spectacle.
Ms. Angie Gabinete
Provincial Tourism Officer
CP # 0919-4090878
DOT-Region VI
Tel. # (033) 337-5411/509-3550
February 21-27
KALILANGAN FESTIVAL
Venue: Gen. Santos City
A festival to celebrate the "friendly co-existence with all the peoples of Gen. Santos City". Activities are agro-industrial trade fair, cultural presentations, drum and bugle competition, culinary arts contest "Pagana", "Kulintangan" ethnic musical instrument competition and "Kadsagayan" street dancing.
Mr. Warren Manilay
City Tourism Officer
Office of the Mayor
Tel. # (083) 552-5150
DOT-Region XII
Tel. # (082) 221-6955
Last Sunday of February
ITIK-ITIK FESTIVAL
Venue: Barangay Kalawaan, Pasig City
The festival features the "Itik" or native duck. The celebration includes streetdancing, itikman (Pasarapan sa Lutong Itik), karera ng mga bangka, fluvial procession and games like "Hulihan ng Itik sa Ilog".
Ms. Josefina Alvarez
Cultural Affairs & Local Tourism Office
Telefax : 628-0379
March 14-20
STRAWBERRY FESTIVALLa
Venue: Trinidad, Benguet
The Municipality of La Trinidad in Benguet known as the Strawberry Capital of the Philippines, will feature the baking of the largest strawberry cake including a trade fair on strawberry products and cut flowers.
DOT-CAR
Tel. # (074) 442-8848/7014
March 17
PINILISA FESTIVAL
Venue: Jones, Isabela
A thanksgiving celebration of the people of Jones, Isabela for the abundant Pamilisa harvest – a red upland rice variety. Other activities include streetdancing; pinilisa rice cooking demo and trade fair.
MS. BLESSIDA G. DIWA, Regional Director
2/F Tuguegarao Supermarket, Tuguegarao, Cagayan 3500
Tel.: (6378) 844 5364/1621
Fax: (6378) 844 1621 / 844 1736 c/o PNA
Cell. Phone: (0917) 903 2849
March 18-19
BANANA FESTIVAL
Venue: Baco, Mindoro Oriental
A celebration of its abundance of banana. It features banana cook fest and a banana (saba) inspired street dancing competition and beauty pageant. This coincides with the town fiesta in honor of St. Joseph.
Mindoro Oriental Provincial Tourism Office
Tel.# (043) 286-7876
March 22
ALIMANGO FESTIAL
Venue: Lala, Lanao del Norte
A festival to celebrate "Araw ng Lala" featuring displays of different sizes of Alimango (crab). Also featuring native costumes, dances and contests depicting and promoting local culture and tradition and a fluvial parade passing through unspoiled mangroves, among others.
Municipal Mayor Santiago L. Bontilao
Lala, Lanao del Norte
Ms. Wilma Bulaclac
Provincial Tourism Officer
Tel. # (063) 341-5647
food festival philippines Kulinarya Festivals (Apr.-June)
Date
Event/Venue Description Organizer
April 1-5
BANANA FESTIVAL
Venue: La Castellana,
Negros Occidental
A harvest festival that opens on the first day of April, showcasing the different varieties of banana which is abundant in the municipality. Booths, floats and costumes of muses are made from different parts of the banana. Farmers from all over the thirteen barangays in the municipality display and sell their harvest in their booths in thanksgiving to their patron, St. Vincent Ferrer, whose feast day falls on April 05.
Mayor Enrico R. Elumba
Mun. of La Castellana
Tel. # (034) 485-0209/485-0279
Mayor Ray Embang
Tourism Officer Designate
Tel. # (034) 485-0208 to 09
Telefax (034) 485-0279
DOT-Region VI
Tel. # (033) 337-5411/509-3550
April 1-9
KESONG PUTI FESTIVAL
Venue: Sta. Cruz,
Laguna
Kesong Puti is made from carabao milk, fermented and wrapped in banana leaves. The product is not exclusively from the town as there are other municipalities of the province producing it. However its origin traces in Sta. Cruz and local producers still practice the traditional way of kesong puti making.
DOT-Region IV
Tel. # (02) 524-1969/1528
April 15
PAHIMIS
Venue: Amadeo, Cavite
A festival that revives the coffee industry. The festival includes a trade fair, tiangge, parlor games. It is highlighted by street dancing.
DOT-Region IV
Tel. # (02) 524-1969/1528
April 21-25
KINULOB FESTIVAL
Venue: Mabini, Batangas
Kinulob Festival gives recognition to the local native chicken raisers. Kinulob is one way of cooking the whole chicken with unique presentation. Street dance competetion, mini band exhibition, cultural presentation and Mutya ng Mabini pageant are some of the
Office of the Mayor
Tel. # (043) 487-0707
April 23
PINAKBET FESTIVAL
Venue: Sta. Maria
Ilocos Sur
A festival celebrating a favorite dish of the Ilocanos, "pinakbet" featuring street dances, cooking competitions. A day to honor the farmer's industry and housewives cooking skills. competitions where the best of Ifugao crafts are displayed.
Mayor's Office
Tel. # (072) 732-5544
DOT-Region I
Tel. # (072) 888-2411/2098
April 27-28
MANGO BAMBOO FESTIVAL AND TRADE FAIR
Venue: San Carlos City,
Pangasinan
A festival promoting San Carlos City as a major trading center of bamboo based products/furniture and best producer of "carabao" mangoes and other mango variety in the country.
Mayor's Office
Tel. # (075) 532-2874/4761
DOT-Region I
Tel. # (072) 888-2411/2098
4th week of April
YAGYAG FESTIVAL
Venue: Cangmating Sibulan,
Negros Oriental
Yagyag is the vernacular for spawning to lay eggs or spread, propagate and grow. The process refers in particular to the crabs and other marine creatures which gather during the months of October to December in Sapa, one of the two springs found in Barangay Cangmating of Sibulan. The creatures lay and float their eggs during high tide, to mature in the swamps. In the coming months, people from the neighboring barrios from Agan-an to Maningcao would come in groups for nature's marine bounty which are harvested for food and as materials for crafts. This is also an occasion for trading and barter, and unity. It features Mardi-gras-type street dancing every 4th Sunday of the month and related events
Mr. Bing Colina
Sibulan Tourism Office
Tel. # (035) 225-1403
DOT-Region VII
April 28-May 2
BANGUS FESTIVAL
Venue: Dagupan City
Pangasinan
Part of Dagupan's Pista'y Dayat celebration with the highlight of longest bangus grill covering more than 1000 meters of the whole stretch of the main road; city bangus rodeo; 101 ways to cook bangus, Gilon (bangus harvest dance parade in bangus inspired costumes amid the beat of drums and upbeat music), Mutya ng Dagat, sports competition/exhibition.
Mayor's Office
Tel. # (075) 515-4343/522-8257
DOT-Region I
Tel. # (072) 888-2411/2098
April 29-May 1
TINAPAHAN FESTIVAL
Venue: Lemery, Batangas
A 3 day festivities that will showcase a trade fair of agro-industrial products, lectures on livestock raising and food processing as well as food demo competition.
Ms. Kabaitan Dinglasan
Batangas Provincial Tourism Office
Tel. # (046) 413-0025; 860-0697
May 1-3
BAWANG (GARLIC) FESTIVAL
Venue: Sinait, Ilocos Sur
Sinait is known as the Garlic Center of the north. Competitions and exhibits include pinaka-Garlic bulb (e.g. biggest garlic) longest and most creative twined garlic bulbs and the Search for the Garlic Festival Queen.
DOT-Region I
Tel. # (072) 888-2411/888-2098
May 1-7
PILIPINYAHAN
Venue: Tagaytay City
The Pilipinyahan Fest was conceptualized by Tagaytay Tourism Council in coordination with the Local Government Unit to promote the pineapple as the most appealing agricultural product in the locality.
DOT-Region IV
Tel. # 524-1969/1528
Tagaytay City Tourism Office Tel. # (046) 413-0025/860-0697
May 1-7
BASI FESTIVAL
Venue: Naguilian, La Union
Expected this year are balikbayans from all over the globe where guests will be enjoying the activities prepared by the town. Obejctive of the event is to promote "basi", a wine made from sugarcane. Activities include street dancing , sports events, agri-trade fair, social night & other amusement games.
Mayor's Office
Tel. # (072) 609-1083/609-1266
May 9-15
MAKALAWAN "PINYA" FESTIVAL
Venue: Calauan, Laguna
The festival was organized in 1999 mainly to promote the juicy and sweetest pineapple or "pinya" as main agricultural product of the town of Calauan.
DOT-Region IV
Tel. # (02) 524-1969/1528
May 18
SANGGUTAN FESTIVAL
Venue:Barugo, Leyte
Honoring the age-old process of coconut winemaking. A dance of the drinkers.
Mayor Juliana Villasin Office of the Mayor
Tel. # (053) 331-4019
DOT-Region VIII
Tel. # (053) 321-2048/321-4333
Every 22nd of May
MANGGAHAN SA GUIMARAS FESTIVAL
Venue: Guimaras
A commemorative celebration of the anniversary of Guimaras as a province and to showcase the premier produce of the province (mango) and the various local attractions.. Highlighted by street dancing, a technology fair, cultural presentations, painting and drawing contests, selection of mango bulilit queen, a marathon and many more.
Gov. JC Rahman Nava
Ms. Angie Gabinete
Provincial Tourism Officer
CP # 0919-090878
DOT-Region VI
Tel. # (033) 337-5411/509-3550
May (Movable)
CEBU MANGO FESTIVAL
Venue: Cebu City
A project of the Visayan Chamber of Mango Industries, Inc. and the Rotary Club of Cebu Guadalupe, this festival helps create awareness of techniques, processes and the economic opportunities mango farming offers. In celebration, various activities are lined-up such symposiums, seminars, food fairs, float parade, open show dance competition "Mango Tango" and bingo.
DOT-Region VII
Tel. # (032) 254-6077/6650/3534
Visayas Chamber of Mango Industry, Inc.
Tel. # (032) 346-6038
June 10-11
CAMOTES CASSAVA FESTIVAL
Venue: Tudela,
Camotes Island
A yearly celebration of a bountiful harvest. A time where farmers display their various cassava-based products, share their varied technical experiences in producing and processing cassava products. Among the activities are the Best Booth Contest, Poster Making contest, search for new cassava food products, cultural night and the search for Miss Camotes Tourism.
DOT-Region VII
Tel. # (032) 254-6077/6650/3534
June 15-24
PINYASAN FESTIVAL
Venue: Daet,
Camarines Norte
A colorful festival showcasing the province's primary agri-product, the sweetest "queen" pineapple called Formosa. The event features lavishly decorated floats, street dancing presentation, agro-industrial fair, talent/skills/beauty competitions.
DOT-Region V
Tel. # (052) 482-0712/820-3664
Office of the Mayor
Tel. # (054) 721-5906/2763
June 19-23
KALIBO FOOD FESTIVAL SA KALYE
Venue: Kalibo, Aklan
Join the folks of Kalibo in its mid-year tourism event. A festival that introduced Kalibonhons to a grand way of celebrating life while giving honor to its municipal and religious fiesta patron, St. John the Baptist. For five fun-filled nights, experience gastronomic fulfillment and entertainment extravaganza right in the middle of the street.
DOT-Region VI
Tel. # (033) 337-5411/509-3550
Ms. Nester Anne A. Templonuevo
Kalibo Tourism Office
Magsaysay Park, Kalibo, Aklan
Tel. # (036) 262-1020
Fax (036) 262-3241
June 20-29
PILI FESTIVAL
Venue: Sorsogon City, Sorsogon
Pili is an indigenous crop of Bicol Region, particularly Sorsogon. This festival showcases the Pili, the primary purpose of which is to emphasize its importance and to increase the awareness of the public on its leaves' economic use. One way of doing this is through a street dance presentation, a highlight of the festival. The street dance presents the three stages of Pili, from green (young fruit) to violet
(half-mature) to black (mature) nuts and how it is being processed into different kinds of sweets and delicacies.
DOT-Region V
Tel. # (052) 482-0712/820-3664
Mrs. Cecilia H. Duran
Tel. # (056) 211-1357
June 24
PARADA NG LECHON
Balayan, Batangas
A celebration that coincides with the Feast of St. John the Baptist. Lechons coming from the barangays of the town are paraded at the town plaza. After the parade, the town's people and guests partake in the fete.
DOT-Region IV
Tel. # 524-1969/1528
Balayan Municipal Hall
Tel. # (043) 211-4312
June 24
FEAST OF ST. JOHN THE BAPTIST/LECHON FESTIVAL
Venue: Pola,
Mindoro Oriental
Dressed in creative costumes and disguises lechons are paraded around the town in the accompaniment of gay chanting and buhusan, a customary practice during the San Juan Bautista feast; a selection of the best from among the number of entries follows. A free-for-all banquet is open to the townfolk and visitors alike.
DOT-Region IV
Tel. # 524-1969/1528
Provincial Tourism Office
Tel. # (043) 286-787
food festival philippines Kulinarya Festivals (July-Sept.)
Date
Event/Venue Description Organizer
1st week of July
BANANA FESTIVAL
Davao del Norte
Street dancing, agri-trade fair to highlight Davao del Norte as "banana country".
DOT-Region XI
Tel. # (082) 221-0070
3rd week of July
KUMBIRA (FOOD FESTIVAL)
Cagayan de Oro City
Food and culinary competitions sponsored by the Cagayan de Oro Hotel and Restaurant Association (COHARA).
DOT-Region X
Tel. # (08822) 726-394/723-696
July 15, 2011
Launch of Culinary Short Courses at CCA Farmer's Market, Cubao
The Center for Culinary Arts (CCA), in partnership with the Department of Tourism, offers a 4-hour Philippine Kulinarya Short Cooking Course at the CCA Farmer's Market in Cubao, Quezon City every second Friday of the month starting July 15, 2011. The course was launched on July 15, 2011 with Media, Tour Operators and DOT/TPB officers in attendance. The course includes a market tour, cooking demo by a professional Chef and hands-on cooking by the participants. Featured dishes are Chicken Pork Adobo, Seafood Sinigang, Sotanghon Guisado and Maja Mais.
A certificate is awarded to the participants at the end of the course. The course cost P3,300 per person.
July 29-31, 2011
2nd Philippine Culinary Tourism Expo
SM Megamall, Megatrade Hall
This trade and consumer exposition is the first of its kind devoted to the promoting Philippine Culinary Travel and will be held simultaneously with the International Tourism and Trade Expo. Expo features Pinoy Master Chef Culinary Competition, cooking demos, bar flair copmpetition, and Culinary Tourism seminars.
July – August
(Movable)
KIDAPAWAN FRUIT FESTIVAL
Venue: Kidapawan City
Kidapawan takes its fruit growing industry to the streets – literally as the city celebrates the annual fruit festival. There are cultural shows, a parade of local fruit products, exhibits, street dancing competition and selected lectures on fruit preparation proceses.
Mr.Benjamin Mallorca
Office
August 15
LUBI-LUBI FESTIVAL
Venue:Calubian,
Leyte
A lively festival extolling the uses of the coconut tree which are abundant in Calubian town.
DOT-Region VIII
Tel. # (053) 321-2048/4333
3rd week of Aug.
KALUBIHAN FESTIVAL
Province of Guimaras
A festivity in support of the National Coconut Week Celebration which recognizes the efforts of the coconut farmers and other stakeholders of the province. Activities include " Karituhan , a parade of caritos artistically decorated with coconuts and its products, poster making and painting contests. Hataw sa Kalubihan – games and cultural presentation, food festival and highlighted by a coronation of " Nanay sang Kalibuhan ".
DOT-Region VI
Tel. # (033) 337-5411/509-3550
Ms. Angie Gabinete
Provincial Tourism Officer
Tel. # 0919-4090878
3rd week of Aug.
KADAYAWAN SA DABAW
Venue: Davao City
A festival of thanksgiving for bountiful harvests and tribute to its colorful tribes in Exotic Mindanao. A celebration that interfaces three aspects: tribal, industrial and arts and entertainment. It is also highlighted by floral float and street dancing competitions.
DOT-Region XI
Tel. # (082) 221-6955/0070
Kadayawan Foundation, Inc.
Tel. # (082) 227-2477
September 1-3
KUMBIRA (Food Festival)
Venue: Pryce Plaza Hotel
Cagayan de Oro City
Food 7 culinary competitions sponsored by the Cagayan de Oro Hotel and Restaurant Association (COHARA) with cultural presentations, display of local and creative cuisine and drinks ; food demo
DOT-Region X
Tel. (08822) 723-696/726-394
E-mail : [email protected]
September 5
TUNA FESTIVAL
Venue: General Santos City
A part of the charter celebration. General Santos City is known as the Tuna Capital of the Philippines. Thanksgiving and festivities are being celebrated annually thru its Tuna Festival. Focusing on its main industries. Tuna Float is an awesome event to taste also sumptuous tuna treats during the Tuna Culinary Contest.
DOT-Region XII
Tel. # ( 064) 421-1110/7868
Tuna Festival Council
Tel. # (083) 554-9678/302-0882
September 9
PARADA NG KAKANIN/ FEAST OF NUESTRA SEÑORA DE ARANZAZU
Venue: San Mateo, Rizal
The Parada ng Kakanin was introduced by Monsignor Manuel Balbago on the celebration of the foundation day of Nuestra Señora de Aranzazu with their delicacies, then afterwards, the delicacies were given to all for free.
DOT-Region IV
Tel. # 524-1969/1528
Office of the Mayor
Tel. # 942-5793
September 13
MANIWAY FRUIT FESTIVAL
Venue: Rizal,
Zamboanga del Norte
A festival of various kinds of fruits awaits every visitor and guest.
DOT-Region IX
Tel. # (062) 991-0218/992-6242
September 27
ANIHAN FESTIVAL
Venue: Lobo, Batangas
The Anihan Festival is a rendezvous of the people of Lobo represented by all the barangays that showcase various products being produced in their barangays. The representatives do the street dancing wherein they were dressed in beautiful costumes
DOT-Region IV
Tel. # 524-1969/1528
Office of the Mayor
Tel. # (043) 198-1577
September
BAGUIO TOSSED SALAD FESTIVAL
Venue: Baguio City
A record breaking attempt to showcase the heaviest tossed salad and served to the public.
DOT-CAR
Tel. # (074) 442-8848/7014
Baguio Associations of Hotels & Inns, Inc.
food festival philippines Kulinarya Festivals (Oct.-Dec.)
Date
Event/Venue Description Organizer
October 2
KINILAW FESTIVAL
Venue: Surigao City
A festival showcasing different styles in preparing a "kinilaw" (raw fish delicacy). It also features the variety of fish, seafoods and other marine products in the locality.
DOT-Region XIII
Tel. # (085) 341-8413/225-5712/
815-3323/815-6040
October 8
LUBI-LUBI FESTIVAL
Venue: Glan,
Sarangani Province
A festival showing various uses of the coconut tree and its by products through dances and street revelry.
DOT-Region XII
Tel. # (064) 421-1110/7868
Mr. Larry Asparin
Provincial Tourism Office
Tel. # (083) 508-2195
October 23-25
LANZONES FESTIVAL
Venue: Camiguin Island
Showcases agro-industrial products, cultural presentations highlighted by street dancing competitions and lanzones picking.
DOT-Region X
Tel. # (08822) 726-394/723-696
Mr. Catalino Chan III
Camiguin Tourism Officer
Tel. # (088) 387-1079
October 26-28
BANAYAN FESTIVAL
Venue: Banaybanay, Davao Oriental
A thanksgiving celebration giving tribute to the town's main product – RICE, the municipality being the rice bowl of Southern Mindanao
DOT-Region XI
Tel. # (082) 221-0070
November 12
PUTONG POLO FESTIVAL
Venue: Polo,
Valenzuela City
As part of the San Diego de Alcala Feast Day, it is one of the unique food festival in the country which features the famous Putong Polo, the small but classy "kakanin" which was originally created in the town of Polo, Valenzuela. Proof of this is the name itself which is the old name of Valenzuela when it was still part of Bulacan. The festival is highlighted by a parade of different artistic creation using the Putong Polo as the medium for designing and building the creations. There will be a parade of competing Mini Float, Headdress and Andas creations and a Trade Fair Exhibit of different locally manufactured products.
DOT-NCR
Tel. # 525-7082/524-8311
Mr. Barcelito de Sotto
Valenzuela City Aultural Affairs & Tourism Development Office
Tel. # 443-2729/291-0672
Every 2nd weekend of December
PARAYAN FESTIVAL
Venue: Pototan, Iloilo
The Parayan Festival is a grand celebration of the Earth and one of its primary products – 'rice'. Pototan, as the rice granary of Western Visayas, considers the Parayan Festival as their supreme gesture of thanksgiving for what Mother Earth has bestowed upon their fertile soils. This harvest festival also honors the hardworking rice farmers as one of our economy's unsung heroes.
DOT-Region VI
Tel. # (033) 337-5411/509/3550
Parayan Festival Secretariat
Tel. # (033) 529-8716
December 11-16
COFFEE FESTIVAL
Venue: Lipa City
The coffee festival was conceived to showcase the long reign of Lipa as the coffee granary of the Philippines. It includes trade fair and tiange,'Karera ng Tiburin', search for Barako ng Bayan, and parlor games.
DOT-Region IV
Tel. # 524-1969/1528
Lipa City Tourism Council
Tel. # (043) 312-1399/312-0360
December 14-16
BOD-BOD FESTIVAL
Venue: Tanjay City,
Negros Oriental
The festival gives emphasis to this native delicacy made of glutinous rice, coconut milk, sugar and salt. It features the biggest Bod-bod that would weigh as much as eighty kilos and requires ten persons to prepare the delicacy, and the smallest Bod-bod that would come served inside a matchbox. Bod-bod making contest gives the Tanjayanons the chance to show their natural expertise on the art of making the delicacy. While Bod-bod eating contest twill give the town's visitors the real treat of their lives when they outdo each one in consuming a winnow (nigo) of the delicacy.
DOT-Region VII
Tel. # (032) 254-6077/6650/3534
December 26-28
PUTO FESTIVAL
Venue: Calasiao,
Pangasinan
Celebration of the town's major produce, rice cake (puto). Some of the highlights are Best Puto design contest. Best ways to present puto, street dancing and cultural performances.
DOT-Region I
Tel. # (072) 888-2411/700-5780
Mayor's Office
Guys check out camella freya